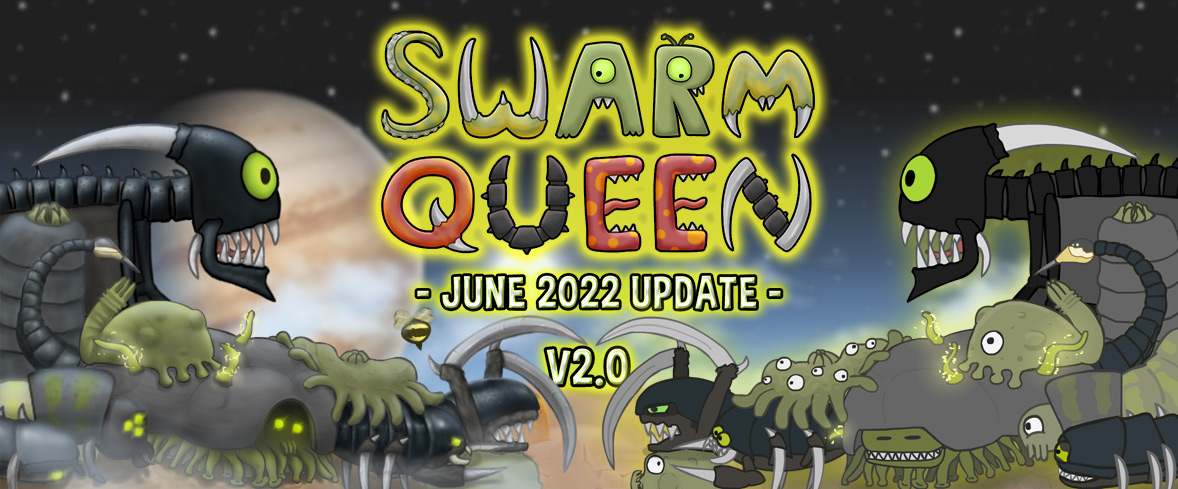 Factsheet
Developer:
Helmi Bastami
Based in Ottawa, Canada
Original Release date:
Dec 19th, 2017
Latest Update:
June 6th, 2022
[V2.0.00]
Platforms:
PC (Steam)
Android port coming soon

Regular Price:
| | |
| --- | --- |
| USD | 7.49 |
| CAD | 7.49 |
| AUD | 7.49 |
| GBP | 4.95 |
| CNY | 28 |
| BRL | 12,69 |
| RUB | 169 |
Description
Swarm Queen is single-player tug-of-war real-time strategy game about insect-like aliens battling over Jupiter's moon, Europa. It's quick-to-learn, but tactical and challenging.
Your minions control themselves, using "fuzzy logic" to pick the best target. This leaves you free to focus on strategy. As the queen of your swarm, your job is to collect resources with "Harvester" units, mutate your eggs into new types of minions, and build your army, while occasionally spitting globs of Neurotoxin at the enemy horde.
Features
A variety of 18 different minions, from electricity-shooting shell-covered beasts, to flying bat-like comb carriers.
Dozens of levels to fight through, including bonus "challenge levels" which put a twist on normal gameplay. (For example: infinite resources, super speed, 1-health queen)
Comedic dialogue; your hideous insectoid alien queen and her rivals yell at each other in ALL CAPS, with the intelligence and maturity of a child sending angry text messages.
Fun minion designs, inspired by a combination of actual insects, and classic sci-fi aliens like Xenomorphs, Zerg, and the "Bugs" from Starship Troopers.
History
Production
Production of Swarm Queen started near the end of 2014 as a "small" one-man indie project that was intended to take "a few months", as my first commercial release. The game was made in Flash, with the plan that a free web version would work to advertise the full game. (At this time, "Flash games" were still a thing.)
Unintentionally "Secret" Release
Just 3 short.. years later, in December 2017, Swarm Queen was released with no publisher or publicity. Between the start of production and release, Flash had announced that it would cease to exist, and browsers would no longer support the plug-in to play Flash games.
Not only were Flash gaming sites almost non-existent by this point, but the web version that I did publish was far too generous, giving away most of the content, without much incentive to get the full game on Steam.
In the first week, there were 20 sales. (This is bad.)
Long Tail "Hidden Gem"
Normally, games make most of their sales in the first weeks or months of release, and then the graph of sales resembles a "long tail" of continued but low sales.
But for Swarm Queen - a solo indie project with no publicity - the graph has instead been a steady upwards slope, as players continue to discover it on Steam - with occasional spikes whenever a big gaming YouTuber finds it.
This "reverse long tail" is encouraging, and it has inspired continued updates to the game.
2022 Update
The biggest update yet, labeled version "2.0" or the "June 2022 Update", features:
An entire "cartoon" alternate art style
Steam achievements (55 of them)
The ability to see enemy "emotions"
An "easy" difficulty setting
Professional translation of the whole game (into Simplified Chinese, Spanish, Brazilian Portuguese, German, and Russian)
Various menu-graphics improvements, and quality-of-life improvements (for example, the number of enemy "Harvester" units is now displayed)
an Android port is coming soon!
---
Videos
Swarm Queen trailer (June 2022 Update) YouTube
( 简体中文 | Español | Português do Brasil | Deutsch | Русский )
A YouTuber (BaronVonGames) playing the game YouTube
---
Screenshots
download all screenshots as .zip (1MB)
---
Logo & Icon
download logo files as .zip (474kb)
---
Image Assets Zip
Sometimes YouTubers or others request image assets to make thumbnails or whatever, so here's a bunch. (includes the logos and screenshots above)
download image assets as .zip (15.9mb)
---
Unit GIFs
download GIF files as .zip (257kb)
---
About Helmi Bastami
Helmi Bastami (it rhymes with "sell me pastrami") is a one-man indie gamedev team located in Ottawa, Canada, on a big space rock. Formerly a hobbyist animator and developer of free Flash games made just for fun on his website Flyborg.net, his first commercial release is Swarm Queen.

---
Monetization Permission
Monetization of online video recordings of Swarm Queen is explicitly permitted, for commercial or non-commercial purposes. (link to this section)
---
Swarm Queen Credits
Helmi Bastami
Design, Art, Programming, etc
Music by Kevin Woods, via PremiumBeat.com
---
This press kit based on presskit() by Rami Ismail (Vlambeer)